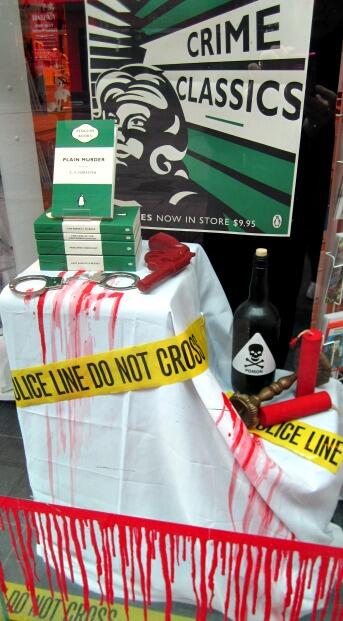 I recently paid a vist to Dymocks Adelaide after succumbing to temptation following their tweet of their penguin crime classics window display.
This latest collection of penguin classics includes 50 crime novels by some of the most gifted and influential authors of all time including Sir Arthur Conan Doyle, Barbara Vine, and G.K. Chesterson all in a stylish green cover and standard layout (much the same as the other 'classics' range).
However, its the inclusion of authors renowned for their noir and hardboiled exploits that really gets me excited. Raymond Chandler, Erle Stanley Gardner, Charles Willeford, and Dashiell Hammett have books which feature in this line:
Raymond Chandler:
- The Long Goodbye
- Playback
Erle Stanley Gardner:
- The Case of the Postponed Murder
- The Case of the Phantom Fortune
Dashiell Hammett:
- The Thin Man
Charles Willeford:
- Miami Blues
While the at times lurid yet attractive and highly collectible dimestore covers are gone, the modern and more refined green look works well for the series as a whole (and makes me want to collect as many as my budget allows).
My initial swag included the following with an attractive tote bag thrown in for free:
Dymocks Adelaide has loads of these in store, with today being National Bookshop Day, why not head in store and pick up a penguin crime classic?
Links:
- View the list of Popular Penguin Crime Classics

HERE
-
Visit

Dymocks online
Follow Dymocks Adelaide on twitter:

@DymocksAdelaide
Follow me on twitter:

@OzNoir