Today I thought I'd take a look at some of forthcoming comics due out in the second half of this year. Just like my taste in novels, my comic reading is all about diversity and, more importantly, great art that complements the authors vision which really makes this medium such an enjoyable change of pace from the longer form of fiction.
Already this year has produced some great new reads in Red City #1 (from Image) and Rai (from Valiant) - both futuristic and off world (Rai is set in the year 4001 in a floating Japan, while Red City is a noir tale spun in outer space with Mars central to proceedings).
Looking ahead, there's loads to get excited about for comic fans, but for me this handfull of up new books has me most excited:
July 2014:

ROBOCOP #1

written by Joshua Williamson, art by Carlos Magno (Boom Studios)
Dive into the hard world of Old Detroit with RoboCop and his partner, Anne Lewis, following the events of the original film (1987). A deadly and charismatic criminal, Killian, is released from jail. He went into the slammer before RoboCop hit the streets, and now he wants to take out the biggest cop in the city. When OCP wants to take guns off the street, Killian sess it as his opportunity to take on the forer Alex Murphy.
July: SPREAD #1 written by Justin Jordan, art by Kyle Straham (Image Comics)
Ten years ago, humanity dug too deep and unleashed something ancient that couldn't be controlled. Something that couldn't be stopped, twisting everything it touched into more of itself. The Spread. Humanity was nearly destroyed before finding a way to slow the Spread to a crawl. Now, deep inside the quarantined zone, one man has found what might be the key to stopping it forever: a baby girl. And if he can save her, he might save the world.
September 2014:

EX-CON #1

written by Duane Swierczynski, art by Keith Burns (Dynamite)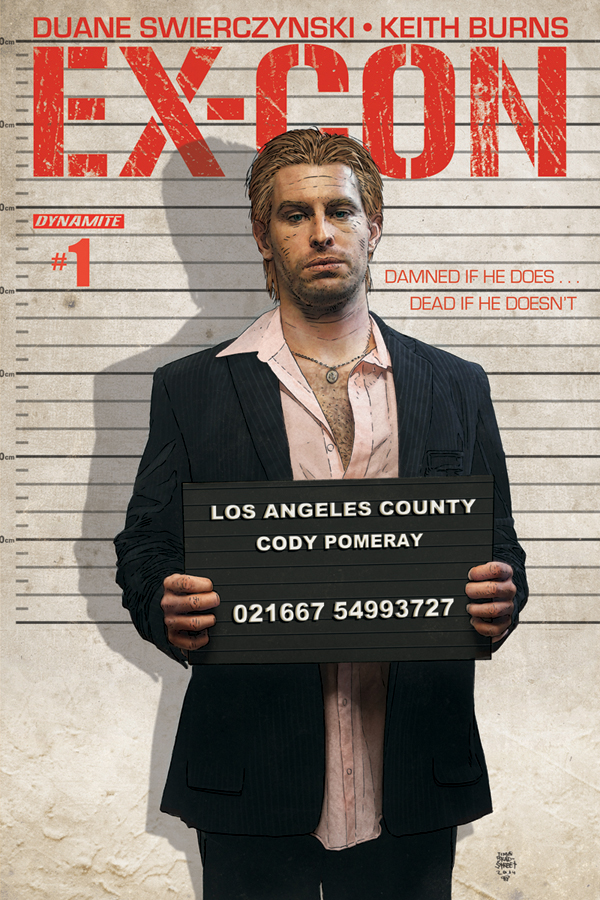 Ex-Con #1 begins in 1985 with L.A. con artist Cody Pomeray, who had a gift for looking inside a mark's soul with just a glance. But one fateful night, he targeted the wrong man -- and was sentenced to the most savage prison in California. Pomeray would have been beaten to death on his first day if not for the intervention of Barnaby Creed, the most powerful crime lord in the Southland. Now it is 1989 and Pomeray's out on parole, robbed of his special ability and tasked with doing Creed "a little favor." He has no idea he's just stepped into a long con, and this time, *he's* the mark!