This is a weekly meme hosted by

Book Journey

. In order to get some consistency to my posting I thought I'd jump on board this great idea. As a self-proclaimed bookaholic, I love talking about my books and finding out what others are reading. Having been a long time reader of multiple blogs where the 'It's Monday! What Are You Reading?' post is prevalent, I thought it a natural progression I'd add to the mix. Here are my intended picks for this coming week, including what I've got on-the-go today:
MISDIRECTION by Austin Williams (copy provided by the author)
A street magician needs more than sleight-of-hand to survive getting embroiled in a murder case in this blistering novel of suspense, perfect for fans of Harlan Coben and George Pelecanos.

After years of chasing fame and hedonistic excess in the bright lights of Las Vegas, Rusty "The Raven" Diamond has returned home to Ocean City to piece his life back together. When he finds himself an innocent suspect in his landlord's brutal murder, Rusty abandons all hope of maintaining a tranquil existence. Acting on impulse, he digs into the investigation just enough to anger both the police and a local drug cartel.

As the unsolved case grows more complex, claiming new victims and inciting widespread panic, Rusty feels galvanized by the adrenaline he's been missing for too long. But his newfound excitement threatens to become an addiction, leading him headfirst into an underworld he's been desperately trying to escape.
NOBODY'S ANGEL by Jack Clark (This is one of my favourite Hardcase Crime books. I first read it in 2010 and the timing is right for a reread)
TWO KILLERS STALK THE STREETS OF CHICAGO – CAN ONE TAXI DRIVER CORNER THEM BOTH?
Eddie Miles is one of a dying breed: a Windy City hack who knows every street and back alley of his beloved city and takes its recent descent into violence personally. But what can one driver do about a killer targeting streetwalkers or another terrorizing cabbies? Precious little – until the night he witnesses one of them in action…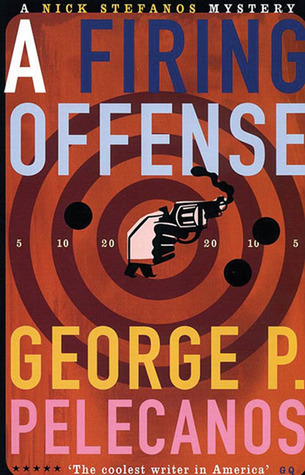 A FIRING OFFENSE by George Pelecanos (The first book in the Nick Stefanos trilogy – been sitting in my tbr for far too long)
As the advertising director of Nutty Nathan's, Nick Stefanos knows all the tricks of the electronics business. Blow-out sales and shady deals were his life. When one of the stockboys disappears, it's not news: just another metalhead who went off chasing some dream of big money and easy living. But the kid reminded Nick of himself twelve years ago: an angry punk hooked on speed metal and the fast life. So when the boy's grandfather begs Nick to find the kid, Nick says he'll try.