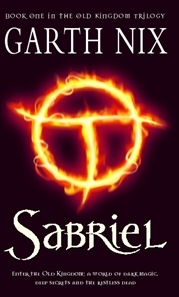 With the fourth full length novel, CLARIEL, due to be published later this year, I thought I'd get reacquainted with the Old Kingdom trilogy beginning with SABRIEL. The first book in this unique and spellbinding series follows Sabriel, a teenager who learns of her fathers impending doom from across the wall in the Old Kingdom; a place rife with magic and dead things. As she travels this dangerous landscape the quest conforms to the formulaic trappings of adventure fantasy; accumulating loyal followers and battling well defined antagonists along the way to locate her father and save the world from a dark danger.
SABRIEL isn't high fantasy. It isn't epic fantasy. What it is, is an entertaining character driven story that borrows from all the core elements of the genre and infuses it with a touch of horror and a dash of the supernatural.
While not explicitly defined as YA, SABRIEL could fall within that definition by virtue of the introspective narrative and innocence of the protagonist coupled with the easy romanticism that seeps into the story.
The Old Kingdom books are a great form of escapism, and having re-read SABRIEL, I'm now even more excited for the new book.