Friday Finds is a weekly meme hosted by

Should Be Reading

where you share the book titles you discovered or heard about during the past week. These can be books you were told about, books you discovered while browsing blogs/bookstores (physical or online), or books that you actually purchased. I think this is a great idea and a way to share my enthusiasm of discovering new books.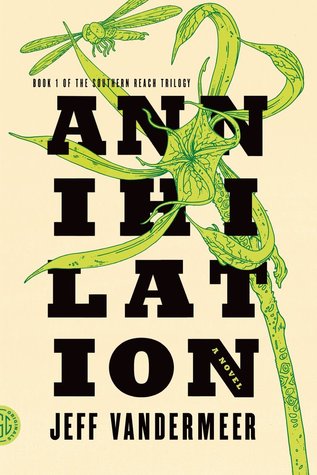 ANNIIHILATION by Jeff VanderMeer (The first book in the Southern Reach Trilogy. I ordered this online and it arrived this week. As a bibliophile I love physical books and the perfect paperback edition is a joy to look at. I cant wait to read this (will likely feature in my Monday Reads post next week)).
Area X has been cut off from the rest of the continent for decades. Nature has reclaimed the last vestiges of human civilization. The first expedition returned with reports of a pristine, Edenic landscape; all the members of the second expedition committed suicide; the third expedition died in a hail of gunfire as its members turned on one another; the members of the eleventh expedition returned as shadows of their former selves, and within months of their return, all had died of aggressive cancer.

This is the twelfth expedition.

Their group is made up of four women: an anthropologist; a surveyor; a psychologist, the de facto leader; and our narrator, a biologist. Their mission is to map the terrain and collect specimens; to record all their observations, scientific and otherwise, of their surroundings and of one another; and, above all, to avoid being contaminated by Area X itself.

They arrive expecting the unexpected, and Area X delivers—they discover a massive topographic anomaly and life forms that surpass understanding—but it's the surprises that came across the border with them, and the secrets the expedition members are keeping from one another, that change everything.
UNDERCOVER - A Cormac Kelly Thriller by Gerard Brennan (The latest crime fiction from one of my fav authors in Gerard Brennan looks to be just as good as some of his previous works. Was published this week.)
When undercover detective Cormac Kelly infiltrates a ruthless gang bent on kidnapping and extortion, he is forced to break cover and shoot his way out of a hostage situation gone bad. Tearing through the dangerous streets of Belfast with a twelve-year-old boy and his seriously injured father in tow, Kelly desperately tries to evade the gang and reconnect the family with the boy's mother, football agent Lydia Gallagher. But she is in London, unaware of their freedom and being forced by the gang to betray her top client. As Kelly breaks every rule in the book and crosses the line from legit police officer to rogue cop on the run, the role of dapper but deadly ex-spook Stephen Black means the difference between life and death…