Friday Finds is a weekly meme hosted by

Should Be Reading

where you share the book titles you discovered or heard about during the past week. These can be books you were told about, books you discovered while browsing blogs/bookstores online, or books that you actually purchased. I think this is a great idea and a way to share my enthusiasm of discovering new books.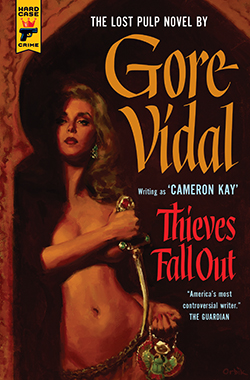 THIEVES FALL OUT by Gore Vidal (to be published April 2015 by Hardcase Crime)
ON THE EVE OF REVOLUTION, EGYPT IS A TINDERBOX.

WILL ONE AMERICAN LIGHT THE SPARK THAT SETS IT ABLAZE?

In 1953, Gore Vidal had already begun writing the works that would launch him to the top ranks of American authors and intellectuals. But in the wake of criticism for the scandalous content of his third novel, Vidal turned to writing crime fiction under fake names: three books as "Edgar Box" and one as "Cameron Kay." The Edgar Box novels were subsequently republished under his real name. The Cameron Kay never was.

Lost for more than 60 years and overflowing with political and sexual intrigue, THIEVES FALL OUT provides a delicious glimpse into the mind of Gore Vidal in his formative years. By turns mischievous and deadly serious, Vidal tells the story of a man caught up in events bigger than he is, a down-on-his-luck American hired to smuggle an ancient relic out of Cairo at a time when revolution is brewing and heads are about to roll.

One part Casablanca and one part torn-from-the-headlines tabloid reportage, this novel also offers a startling glimpse of Egypt in turmoil—written over half a century ago, but as current as the news streaming from that region today.


THE GENUINE IMITATION PLASTIC KIDNAPPING by Les Edgerton (out late Sept. 2014 from Down and Out Books, I was lucky enough to nap an e-arc of this from the publisher)

The Genuine, Imitation, Plastic Kidnapping is a mix of Cajun gumbo, a couple tablespoons of kinky sex and a dash of unusual New Orleans settings. The reader follows the comic mis-adventures of Pete Halliday, busted out of baseball for a small gambling problem, Tommy LeClerc, a Cajun with a tiny bit of Indian blood who considers himself a red man, and Cat Duplaisir, a part-time hooker and full-time waitress. With both the Italian and Cajun mobs after them, a chase through Jazz Fest, a Tourette's outbreak in a black bar and other zany adventures, all seems lost.

Fans of Tim Dorsey's character Serge A. Storms, and readers who enjoy Christopher Moore and Carl Hiassen will enjoy this story.