This series of blog posts is a top 5 topical 'best-of' list for all things bookish - be it true crime, fiction, novels to novella etc. - pretty much whatever topic I want to post about on a given day. The aim being to reintroduce myself with some old favourites (books/authors) and also take a look at some books/genres I'm yet to read much of. This is a more casual series of posts as there is no defined scheduled unlike my regular

Friday Finds

and

Monday Reads

, feel free to join in and post your top-5 all things bookish and provide a link in the comments.
The first topic in my Top-5 is Stephen King novels. Now, before I get started, I should confess I haven't read some of his more popular titles in IT, CARRIE, PET SEMATARY, though I've pretty much read everything else, including his latest mainstream crime novel MR MERCEDES (which you find on this list).
1. ROSE MADDER (probably my most read Stephen King book. It's an unorthodox choice but remains my fav book.)
Roused by a single drop of blood, Rosie Daniels wakes up to the chilling realisation that her husband is going to kill her. And she takes flight - with his credit card.

Alone in a strange city, Rosie begins to build a new life: she meets Bill Steiner and she finds an odd junk shop painting, 'Rose Madder', which strangely seems to want her as much as she wants it.

But it's hard for Rosie not to keep looking over her shoulder. Rose-maddened and on the rampage, Norman is a corrupt cop with a dog's instinct for tracking people. And he's getting close. Rosie can feel how close he is getting . . .
2. THE DRAWING OF THREE (Dark Tower #2, this is where the series really finds its character. Sure Roland was introduced in the GUNSLINGER as was Jake but this is the best entry for character development and showed a broader imagery to the unique fantasy that is the Dark Tower)
While pursuing his quest for the Dark Tower through a world that is a nightmarishly distorted mirror image of our own, Roland, The Last Gunslinger, is drawn through a mysterious door that brings him into contemporary America. Here he links forces with the defiant young Eddie Dean, and with the beautiful, brilliant, and brave Odetta Holmes, in a savage struggle against underworld evil and otherworldly enemies
3. CELL (One of the best zombie books I've read. Like most on the list I've read this multiple times and will likely revisit it again soon.)
Clayton Riddell, an artist from Maine, is almost bouncing up Boylston Street in Boston. He's just landed a comic book deal that might finally enable him to support his family by making art instead of teaching it. He's already picked up a small (but expensive!) gift for his long-suffering wife, and he knows just what he will get for his boy Johnny. Why not a little treat for himself? Clay is feeling good about the future.

That changes in a hurry. The cause of the devastation is a phenomenon that will come to be known as The Pulse, and the delivery method is a cell phone. Everyone's cell phone. Clay and the few desperate survivors who join him suddenly find themselves in the pitch-black night of civilization's darkest age, surrounded by chaos, carnage, and a human horde that has been reduced to its basest nature...and then begins to evolve.

There is really no escaping this nightmare. But for Clay, an arrow points home to Maine, and as he and his fellow refugees make their harrowing journey north they begin to see crude signs confirming their direction. A promise, perhaps. Or a threat...
4. 11.22.63 (What can I say about this book? I just loved it.)
WHAT IF you could go back in time and change the course of history? WHAT IF the watershed moment you could change was the JFK assassination? WHAT HAPPENS WHEN a young teacher from Lisbon Falls, Maine, 2011, gets the chance to stop Lee Harvey Oswald from shooting JFK in November 1963 is the premise of the brilliant new novel by STEPHEN KING: 11/22/63, the date that Kennedy was shot - unless . . .

King takes his protagonist Jake Epping, a high school English teacher, on a fascinating journey back to the world of 1958 - from a world in 2011 of mobile phones and iPods to a new world of Elvis and JFK, of Plymouth Fury cars and Lindy Hopping, of a troubled loner named Lee Harvey Oswald and a beautiful high school librarian named Sadie Dunhill, who becomes the love of Jake's life - a life that transgresses all the normal rules of time.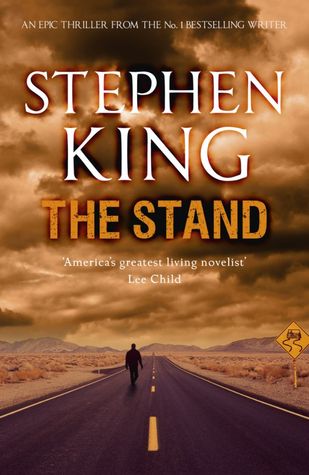 5. THE STAND (Epic, grand scale King in all his greatness. THE STAND is one of those books that just doesn't date.)
First came the days of the plague…
After the days of the plague came the dreams.
Dark dreams that warned of the coming of the dark man. The apostate of death, his worn-down boot heels tramping the night roads. The warlord of the charnel house and Prince of Evil.
His time is at hand. His empire grows in the west and the Apocalypse looms…