This is a weekly meme hosted by
Book Journey
. In order to get some consistency to my posting I thought I'd jump on board this great idea. As a self-proclaimed bookaholic, I love talking about my books and finding out what others are reading. Having been a long time reader of multiple blogs where the 'It's Monday! What Are You Reading?' post is prevalent, I thought it a natural progression I'd add to the mix.
Last week I posted the following reviews:
HUSTLE by Tom Pitts
THE GENUINE IMITATION PLASTIC KIDNAPPING by Les Edgerton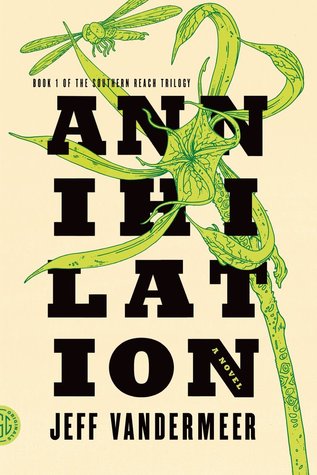 ANNIIHILATION by Jeff VanderMeer (I had intended to read this last week by didn't get the time.)

Area X has been cut off from the rest of the continent for decades. Nature has reclaimed the last vestiges of human civilization. The first expedition returned with reports of a pristine, Edenic landscape; all the members of the second expedition committed suicide; the third expedition died in a hail of gunfire as its members turned on one another; the members of the eleventh expedition returned as shadows of their former selves, and within months of their return, all had died of aggressive cancer.

This is the twelfth expedition.

Their group is made up of four women: an anthropologist; a surveyor; a psychologist, the de facto leader; and our narrator, a biologist. Their mission is to map the terrain and collect specimens; to record all their observations, scientific and otherwise, of their surroundings and of one another; and, above all, to avoid being contaminated by Area X itself.

They arrive expecting the unexpected, and Area X delivers—they discover a massive topographic anomaly and life forms that surpass understanding—but it's the surprises that came across the border with them, and the secrets the expedition members are keeping from one another, that change everything.
CLARIEL by Garth Nix (was featured as one of my most anticipated books of 2014. I recently read SABRIEL to get back into the world of the Old Kingdom - am looking forward to reading this prequel.)
Sixteen-year-old Clariel is not adjusting well to her new life in the city of Belisaere, the capital of the Old Kingdom. She misses roaming freely within the forests of Estwael, and she feels trapped within the stone city walls. And in Belisaere she is forced to follow the plans, plots and demands of everyone, from her parents to her maid, to the sinister Guildmaster Kilip. Clariel can see her freedom slipping away. It seems too that the city itself is descending into chaos, as the ancient rules binding Abhorsen, King and Clayr appear to be disintegrating.

With the discovery of a dangerous Free Magic creature loose in the city, Clariel is given the chance both to prove her worth and make her escape. But events spin rapidly out of control. Clariel finds herself more trapped than ever, until help comes from an unlikely source. But the help comes at a terrible cost. Clariel must question the motivations and secret hearts of everyone around her - and it is herself she must question most of all.