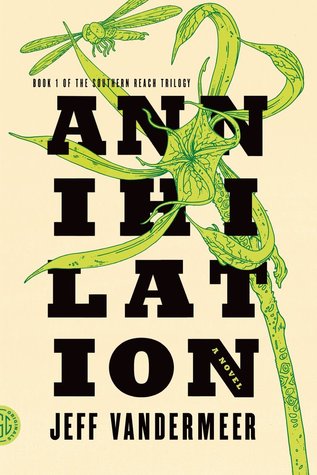 From the back of the book:
Area X has been cut off from the rest of the continent for decades. Nature has reclaimed the last vestiges of human civilization. The first expedition returned with reports of a pristine, Edenic landscape; all the members of the second expedition committed suicide; the third expedition died in a hail of gunfire as its members turned on one another; the members of the eleventh expedition returned as shadows of their former selves, and within months of their return, all had died of aggressive cancer.

This is the twelfth expedition.

Their group is made up of four women: an anthropologist; a surveyor; a psychologist, the de facto leader; and our narrator, a biologist. Their mission is to map the terrain and collect specimens; to record all their observations, scientific and otherwise, of their surroundings and of one another; and, above all, to avoid being contaminated by Area X itself.

They arrive expecting the unexpected, and Area X delivers—they discover a massive topographic anomaly and life forms that surpass understanding—but it's the surprises that came across the border with them, and the secrets the expedition members are keeping from one another, that change everything.
My Review:
The thing that hooked me about ANNIHILATION, the first gripping read in the Southern Reach Trilogy, was the undeniable mystery surrounding the seemingly doomed and off-centre expedition into the little known Area X.
The omnipresent sense of dread is compounded by the strange behaviour and lack of detail attributed to past expeditions - notably the most recent where the members returned only to all die of cancer shortly thereafter.
For our narrator and biologist, her journey into Area X is a personal one. Her husband was one of those who returned from the previous expedition - though, 'returned' may be a little misleading. She's looking for closure while also feeding her lifelong dream by undertaking the expedition.
For the remaining members of the all female team; a psychologist, anthropologist, and a surveyor this journey into the unknown not only brings them face to face with unique flora and fauna but also something that may be a deadly mix of both.
ANNIHILATION is a psychological sci-fi thriller that is gripping from the first page all the way through to the last. I especially enjoyed the way the book ended, closing the chapter on the first instalment while reading readers for the second.