This is a weekly meme hosted by
Book Journey
. In order to get some consistency to my posting I thought I'd jump on board this great idea. As a self-proclaimed bookaholic, I love talking about my books and finding out what others are reading. Having been a long time reader of multiple blogs where the 'It's Monday! What Are You Reading?' post is prevalent, I thought it a natural progression I'd add to the mix.
Last week I posted the following reviews:
AUTHORITY by Jeff Vandermeer (sci-fi/fantasy)
HUSH by Anne Frasier (mainstream crime)
EL GAVILAN by Craig McDonald (I had intended to read this last week but time just got away from me. Am 50-odd pages through and can tell I'm going to like it.)
The news is full of it; escalating tensions from illegal immigration, headless bodies hanging off bridges, and bounties placed on lawmen on both sides of the border. New Austin, Ohio, is a town grappling with waves of undocumented workers who exert tremendous pressure on schools, police, and city services. In the midst of the turmoil, three very different kinds of cops scramble to maintain control and impose order.

But the rape and murder of a Mexican American woman triggers a brutal chain of events that threatens to leave no survivors. El Gavilan is a novel of shifting alliances and whiplash switchbacks. Families are divided and careers and lives threatened. Friendships and ideals are tested and budding love affairs challenged. With its topical themes, shades-of- gray characters, and dark canvas, El Gavilan is a novel for our charged times.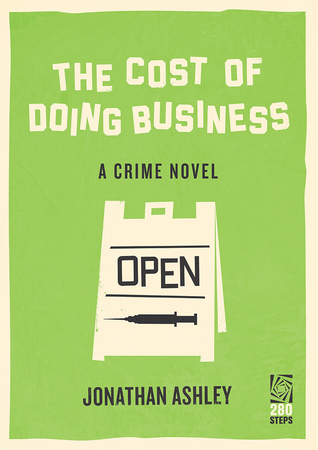 THE COST OF DOING BUSINESS by Jonathan Ashley
In Jonathan Ashley's dark humor debut crime novel, a Louisville bookstore owner leaves his used volumes of Yeats behind to get into the drug trade and make some real money.

Jon Catlett, a misanthropic literary obsessive, is facing the loss of the only thing in the world he loves; his used bookstore, a haven for fellow weirdos, outcasts, misunderstood geniuses and malcontents. Jon has several other problems, the least of which are his love affair with a bi-polar femme fatale heiress to a thriving northern steel company or the exponentially growing opiate habit he has developed.

When Jon, during a deal gone wrong, accidentally kills a fellow drug addict, getting away with murder turns out to be the least of his worries. The steps he and Paul, the obsessive-compulsive manager of Jon's store, must take to cover up the killing result in the two cornering Louisville's blossoming heroin trade.

From West End gangbangers to dirty cops and crusading narcotics detectives, Jon and his unstable partner in crime must dilute their morals and thicken their skin if they are to have any hope of surviving the lucrative but deadly life they've stumbled upon.