Friday Finds is a weekly meme hosted by
Should Be Reading
where you share the book titles you discovered or heard about during the past week. These can be books you were told about, books you discovered while browsing blogs/bookstores (physical or online), or books that you actually purchased. I think this is a great idea and a way to share my enthusiasm of discovering new books.
This week I stumbled across the new Jack Taylor book by Ken Bruen due out mid next year and a new book by the awesome Ray Banks (of which Blasted Heath were kind enough to provide a copy for review). Keeping with my diverse taste in fiction, Apex Books provided a sci-fi book for review which looks a lot of fun too.
ANGELS OF THE NORTH by Ray Banks (due to be published 4 Dec 2014)
Thatcher's Britain. A boom time for entrepreneurs, patriots ... and vigilantes.

Gateshead's notorious Derwent Hall estate. Crippled by unemployment, awash with drugs, and a no-go area for police and politicians alike.

Three men – a taxi driver with political aspirations, a soldier with black dreams, and the jobless victim of a brutal attack – come together to rid their estate of crime. But when conscience collides with ambition, it's not long before the streets turn bloody and their community burns.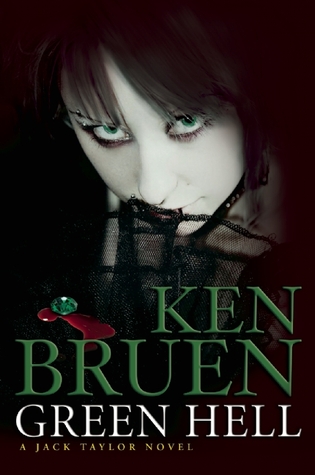 GREEN HELL by Ken Bruen (due to be published 7 July 2015)
In the previous book in the series, Purgatory, ex-cop Jack Taylor had finally turned his life around, only to be taunted back into fighting Galway's corruption by a twisted serial killer named C33. In the new novel Green Hell, Bruen's dark angel of a protagonist has again hit rock bottom: one of his best friends is dead, the other has stopped speaking to him; he has given up battling his addiction to alcohol and pills; and his firing from the Irish national police, the Guards, is ancient history. But Jack isn't about to embark on a self-improvement plan. Instead, he has taken up a vigilante case against a respected professor of literature at the University of Galway who has a violent habit his friends in high places are only too happy to ignore. And when Jack rescues a preppy American student on a Rhodes Scholarship from a couple of kid thugs, he also unexpectedly gains a new sidekick, who abandons his thesis on Beckett to write a biography of Galway's most magnetic rogue.

Between pub crawls and violent outbursts, Jack's vengeful plot against the professor soon spirals toward chaos. Enter Emerald, an edgy young Goth who could either be the answer to Jack's problems, or the last ripped stitch in his undoing. Ireland may be known as a "green Eden," but in Jack Taylor's world, the national color has a decidedly lethal sheen.
SEVERANCE by Chris Bucholz (due to be published 9 Dec 2014)
After 240 years traveling toward Tau Prius and a new planet to colonize, the inhabitants of the generation ship Argos are bored and aimless. They join groups such as the Markers and the Breeders, have costumed orgies, and test the limits of drugs, alcohol, and pain just to pass the time.

To Laura Stein, they're morons and, other than a small handful of friends, she'd rather spend time with her meat plant than with any of her fellow passengers. But when one of her subordinates is murdered while out on a job, Laura takes it as her responsibility to find out what happened. She expects to find a personal grudge or a drug deal gone wrong, but instead stumbles upon a conspiracy that could tear the ship in two.

Labelled a terrorist and used as a pawn in the ultimate struggle for control, Laura, with help from her friend Bruce and clues left by a geneticist from the past, digs deep into the inner working of the ship, shimmying her way through ductwork, rallying the begrudged passengers to rise up and fight, and peeking into an unsavory past to learn the truth and save their future.