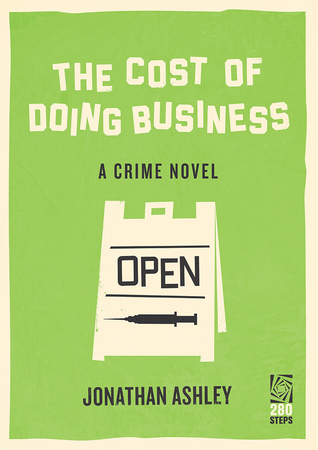 The simplistic crime novel has never been so viscerally vicious. A lethal linear plot populated by evocative events of escalated murder and all too easy violence bleeds freely over the pages of Jonathan Ashley's THE COST OF DOING BUSINESS.
Mixing habit, ambition, self-preservation, and a love of books results in the proverbial storm only survived by living to the limits and maximising one's penchant for murder. Luckily for lead character Jon Catlett his misguided moral compass and dead-eye shooting prowess save him from the reapers' mark only to lead him one step closer to the grave, courtesy of the drug world and gangsters that thrive in the illicit business.
I love the way Jon's plot thread evolves from accidental murderer to ambitious drug boss over the course of a few bloody events. From taking out a fellow addict to dealing with police blackmail to getting into bed with some serious players in the drug trade, Jon temps fate with a bullet and somehow manages to improve his position both financially and credibility wise.
THE COST OF DOING BUSINESS is a great novel for noir enthusiasts who enjoy a fast paced tale of violence encompassing a raw and unhinged approach to the finer elements the drug trade.