Friday Finds is a weekly meme hosted by
Should Be Reading
where you share the book titles you discovered or heard about during the past week. These can be books you were told about, books you discovered while browsing blogs/bookstores (physical or online), or books that you actually purchased. I think this is a great idea and a way to share my enthusiasm of discovering new books.
This week I discovered and obtained so very cool books, and naturally, the mix is eclectic:
AVENGER (Intrepid #3) by Chris Allen (published today!)
Alex Morgan is back and he isn't playing by the rules.
Policeman, soldier and spy for INTREPID, black ops agent Alex Morgan is hunting the Night Witch—the head of a shadowy criminal empire spanning the four corners of the globe and connected to Chinese triads, corrupt cops, and the Russian mafia.
When Morgan's sent to China to shadow INTREPID's newest agent, Elizabeth Reigns, he soon discovers she's been sold out and the triads are after their pound of flesh.
With Reigns in his corner, Morgan must find a way through a complex labyrinth of scattered connections and corporate takeovers to find the real Night Witch, and crush an empire built on trading in human life. But there's only one problem. To achieve his objective Morgan must confront an enemy he thought was already dead and buried. Will Morgan have what it takes to survive?
DOLL FACE by Tim Curran (to be published in March)
Six friends are returning home from a night out when they end up in a town called Stokes. They discover they are trapped there, as Stokes does not really exist. The actual town had burned to the ground more than fifty years ago. The Stokes they are in is a nightmare version of the former town, engineered by a deranged and undead mind, a supernatural machine of wrath that will destroy them one by one....unless they submit to its dominance and become living dolls.
FLEX by Ferrett Steinmetz (to be published in March)
FLEX
: Distilled magic in crystal form. The most dangerous drug in the world. Snort it, and you can create incredible coincidences to live the life of your dreams.
FLUX
: The backlash from snorting Flex. The universe hates magic and tries to rebalance the odds; maybe you survive the horrendous accidents the Flex inflicts, maybe you don't.
PAUL TSABO
: The obsessed bureaucromancer who's turned paperwork into a magical Beast that can rewrite rental agreements, conjure rented cars from nowhere, track down anyone who's ever filled out a form.
But when all of his formulaic magic can't save his burned daughter, Paul must enter the dangerous world of Flex dealers to heal her. Except he's never done this before – and the punishment for brewing Flex is army conscription and a total brain-wipe.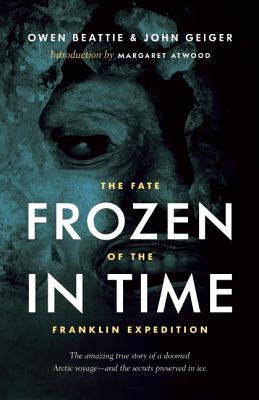 FROZEN IN TIME by Owen Beattie & John Geiger
The truth about what happened on Sir John Franklin's ill-fated Arctic expedition of 1845–48 has been shrouded in mystery for 165 years. Carrying the best equipment that the science and technology, Franklin and his men set out to "penetrate the icy fastness of the north, and to circumnavigate America." The expedition's two ships — HMS
Erebus
and HMS
Terror
— carrying 129 officers and men, disappeared without a trace. From 1846 to 1880 more than 20 major rescue parties were involved in the search for the missing men and ships. The disappearance of the expedition and absence of any substantial written accounts of the journey have left attempts at a reconstruction of events sketchy and inconclusive. In
Frozen in Time,
forensic anthropologist Owen Beattie and historian John Geiger tell the dramatic story of the excavation of three sailors from the Franklin Expeditions, buried for 138 years on the lonely headland of Beechey Island. This book contains the astonishing photographic record of the excavation, together with the maps and illustrations that accompany this riveting account of Franklin's fatal adventure. The unfolding of Dr. Beattie's unexpected findings is not only a significant document but also, in itself, a tale of high adventure.