This is a weekly meme hosted by
Book Journey
. In order to get some consistency to my posting I thought I'd jump on board this great idea. As a self-proclaimed bookaholic, I love talking about my books and finding out what others are reading. Having been a long time reader of multiple blogs where the 'It's Monday! What Are You Reading?' post is prevalent, I thought it a natural progression I'd add to the mix.
Last week I posted the following reviews:
SHAKY GROUND by Sharon Kae Reamer (fantasy/romance)
EVERYBODY GOES TO JIMMY'S by Michael Mayo (prohibition-era crime)
I HEAR SIRENS IN THE STREET by Adrian McKinty (crime) (audio)
OF BLONDES AND BULLETS by Michael Young (crime-noir)
This week I'm reading: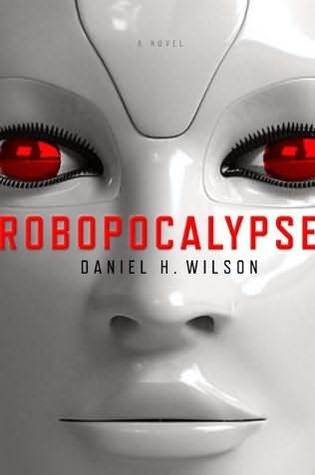 ROBOPOCALYPSE by Daniel H Wilson
They are in your house. They are in your car. They are in the skies… Now they're coming for you.
In the near future, at a moment no one will notice, all the dazzling technology that runs our world will unite and turn against us. Taking on the persona of a shy human boy, a childlike but massively powerful artificial intelligence known as Archos comes online and assumes control over the global network of machines that regulate everything from transportation to utilities, defense and communication. In the months leading up to this, sporadic glitches are noticed by a handful of unconnected humans – a single mother disconcerted by her daughter's menacing "smart" toys, a lonely Japanese bachelor who is victimized by his domestic robot companion, an isolated U.S. soldier who witnesses a 'pacification unit' go haywire – but most are unaware of the growing rebellion until it is too late.
When the Robot War ignites -- at a moment known later as Zero Hour -- humankind will be both decimated and, possibly, for the first time in history, united. Robopocalypse is a brilliantly conceived action-filled epic, a terrifying story with heart-stopping implications for the real technology all around us…and an entertaining and engaging thriller unlike anything else written in years.
PLUNDER OF THE SUN by David Dodge
ON THE TRAIL OF THE LOST TREASURE OF THE INCAS – WITH EVERY FORTUNE HUNTER IN SOUTH AMERICA CLOSING IN!
Al Colby should never have agreed to smuggle the package from Chile to Peru. Now one man's dead, two beautiful women have betrayed him, and a couple of gunmen are hot on his trail. All because of an ancient Quechua manuscript pointing to the hiding place of a priceless hoard, lost for centuries.
Now the race is on – by train, by plane, by motorboat and by mule – first to find the treasure and then to escape with it alive…