With 2014 done and dusted I thought I'd turn my bookish thoughts towards some of the books that I'm excited about that are scheduled for publication this year. I've no doubt I've left off many great books but the below are some that spring to mind immediately. I've sourced cover images where possible.
CANARY by Duane Swierczynski (scheduled to be published in February)
It's dangerous enough when an ordinary college girl turns confidential informant. Even more dangerous when she's smarter than the kingpins, killer, and cops who control her.
Honors student Sarie Holland is busted by the local police while doing a favor for her boyfriend. Unwilling to betray him but desperate to avoid destroying her future, Sarie has no choice but to become a "CI"--a confidential informant.
Philly narcotics cop Ben Wildey is hungry for a career-making bust. The detective thinks he's found the key in Sarie: her boyfriend scores from a mid-level dealer with alleged ties to the major drug gangs.
Sarie turns out to be the perfect CI: a quick study with a shockingly keen understanding of the criminal mind. But Wildey, desperate for results, pushes too hard and inadvertently sends the 19-year-old into a death trap, leaving Sarie hunted by crooked cops and killers alike with nothing to save her--except what she's learned during her harrowing weeks as an informant.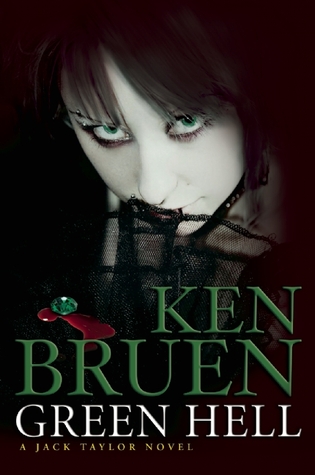 GREEN HELL by Ken Bruen (scheduled to be published in July)
In the previous book in the series,
Purgatory
, ex-cop Jack Taylor had finally turned his life around, only to be taunted back into fighting Galway's corruption by a twisted serial killer named C33. In the new novel
Green Hell
, Bruen's dark angel of a protagonist has again hit rock bottom: one of his best friends is dead, the other has stopped speaking to him; he has given up battling his addiction to alcohol and pills; and his firing from the Irish national police, the Guards, is ancient history. But Jack isn't about to embark on a self-improvement plan. Instead, he has taken up a vigilante case against a respected professor of literature at the University of Galway who has a violent habit his friends in high places are only too happy to ignore. And when Jack rescues a preppy American student on a Rhodes Scholarship from a couple of kid thugs, he also unexpectedly gains a new sidekick, who abandons his thesis on Beckett to write a biography of Galway's most magnetic rogue.
THE MARTINI SHOT by George Pelecanos (scheduled to be published in January) -
Jon over at Bite The Book reviewed this in 2014
George Pelecanos gets inside the minds and hearts of a cast of indelible characters: from the adoptive parents of Spero Lucas trying to expand and redefine their family, to a young boy involved in a drug deal gone bad, to a 1930s immigrant dishwasher facing down a corrupt Pinkerton agent. In the novella, "The Martini Shot," Pelecanos takes readers behind the scenes of a cable TV cop show, where a writer gets caught up in drama more real than anything in a script. Crackling with energy, these stories bring readers to a new understanding of humanity, modern life, and circumstances that stack the deck against people who are just trying to make a decent life for themselves. Gritty, sexy, fast-paced, humane, THE MARTINI SHOT is Pelecanos at his very best.
STAY by Victor Gischler (scheduled to be published in June)
David Sparrow is a stay at home dad. His wife, Amy is a DA working in New York who has inherited a major case; prosecuting a dangerous crime lord.
When David is awoken one night by sounds in the downstairs office of their home, he discovers someone going though Amy's documents.
Immediately confronting the man, a Bourne-like fight ensues with David victorious. When the cops arrive he tries to tell them it was no simple burglary but is ignored, especially when they find out his occupation.
THE TIME OF THE WOLVES by Don Winslow (scheduled to be published in July)
It's 2004. El Federacion, the most powerful drug organisation in the world, has been exploeded and the Mexican drug trade has settled out into several cartels that exist in a state of tenuous accord. The patron of El Federacion, Adan Barrera, is in solitary in a San Diego prison. Art Keller, the DEA agent who put him there - and killed his two brothers - is living at a New Mexican monastery, tending bees, the solitude and simple truths of the place a power antedote to his former "life of lies".
But when Barrera negotiates a deal that lets him serve out his time in a Mexican prision, a series of events is set off that undermines whatever accord existed between the cartels, and a war of unprecedented scale and viciousness erupts. And with Berrera back int he world that he once owned and will do whatever he can to own again, Keller plunges back in the game, playing, as he always did, by his own rules.
What ensues is an all-out war with players - honest and corrupt, victim and perp - on every level of society on both sides of the border. But it's also Keller's personal war on drugs, his own addiction, and the question that hovers above every move he makes; is he looking for justice or for revenge?
THE WATER KNIFE by Paolo Bacigalupi (scheduled to be published in April)
In a future hammered by climate change and drought, mountain snows have turned to rain, and rain evaporates before it hits the ground. In a fragmenting United States, the cities of Phoenix and Las Vegas skirmish for a dwindling share of the Colorado River. But it is the Las Vegas water knives - assassins, terrorists and spies - who are legendary for protecting Las Vegas' water supplies, and for ensuring Phoenix's ruin.
When rumours of a game-changing water source surface, Las Vegas dispatches elite water knife Angel Velasquez to Phoenix to investigate. There, he discovers hardened journalist Lucy Monroe, who holds the secret to the water source Angel seeks. But Angel isn't the only one hunting for water, Lucy is no pushover, and the death of a despised water knife is a small price to pay in return for the life-giving flow of a river.
THE HELLSBLOOD BRIDE by Chuck Wendig (scheduled to be published in March)
The second Mookie Pearl book.
Yes, we're going back deep underground for another twelve rounds with Mookie Pearl. Father, barkeep, former Mafioso, ruler of his subterranean crime-kingdom.
The Organization is back, and they'll do anything to get Mookie on board, but Mookie has gone legit, and it's taking every ounce of effort for him to keep his new bar from crashing and burning. To top it all, his daughter is missing, and when Nora's not in plain sight, that's usually a sign of bad things to come! On one hand, the Organization. On the other, Nora.
Why can't Family ever be easy?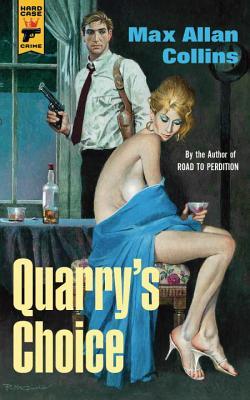 QUARRY'S CHOICE by Max Allan Collins (scheduled to be published January)
Quarry is a pro in the murder business. When the man he works for becomes a target himself, Quarry is sent South to remove a traitor in the ranks. But in this wide-open city – with sin everywhere, and betrayal around every corner – Quarry must make the most dangerous choice of his deadly career: who to kill?