Whilst browsing around the internet today I discovered that the Hardcase Crime website had updated it's listing of books to include releases in July and September of this year as well as the first title for 2016 - and they all look fantastic!
I own just about all of the HCC novels and will be sure to pre-order these.
Below are cover images and text (replicated from the website). I've also included the April 2015 release of THIEVES FALL OUT, because why not?
Maybe no one liked Del Gilbert a whole lot, not the men he ruthlessly did business with, not the women who discovered they weren't his only lover, not even his partner in the Gilbert and Blake literary agency—me. But when I found him shot to death on the floor of his office, I had no choice. I had to track down the person responsible. And not just to lay Del to rest, either. Next to his body, the office safe was wide open, and a contract worth millions was missing...

From the pen of MWA Grand Master Ed McBain comes this unforgettable story of warring agents and Hollywood deal making, murder and scandal—and passions igniting in the dark of night,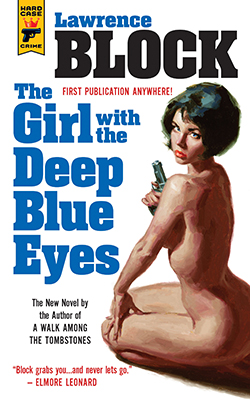 THE GIRL WITH THE DEEP BLUE EYES by Lawrence Block (scheduled publication Sept 2015)
Cashed out from the NYPD after 24 years, Doak Miller operates as a private eye in steamy small-town Florida, doing jobs for the local police. Like posing as a hit man and wearing a wire to incriminate a local wife who's looking to get rid of her husband. But when he sees the wife, when he looks into her deep blue eyes...

He falls—and falls hard. Soon he's working with her, against his employer, plotting a devious plan that could get her free from her husband and put millions in her bank account. But can they do it without landing in jail? And once heÕs kindled his taste for killing...will he be able to stop at one?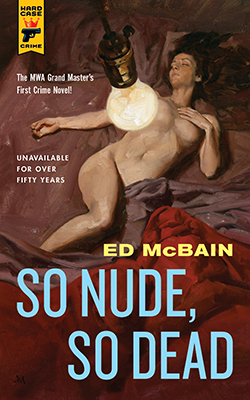 SO NUDE, SO DEAD by Ed McBain (scheduled publication July 2015)
He'd been a promising piano prodigy, once. Now he was just an addict, barely scraping by, letting his hunger for drugs consume him. But a man's life can always get worse—as Ray Stone discovers when he wakes up beside a beautiful nightclub singer only to find her dead...and 16 ounces of pure heroin missing. On the run from the law, desperate to prove his innocence, Ray also faces another foe, merciless and unforgiving:
his fierce and growing craving for a fix...
Ed McBain was one of the most popular mystery writers of all time, creator of the 87th Precinct series and recipient of the Mystery Writers of America's Grand Master Award. SO NUDE, SO DEAD was his very first crime novel—and this is its first appearance in print in more than half a century.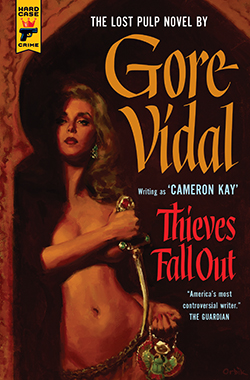 THIEVES FALL OUT by Gore Vidal (scheduled publication April 2015)
In 1953, Gore Vidal had already begun writing the works that would launch him to the top ranks of American authors and intellectuals. But in the wake of criticism for the scandalous content of his third novel, Vidal turned to writing crime fiction under fake names: three books as "Edgar Box" and one as "Cameron Kay." The Edgar Box novels were subsequently republished under his real name. The Cameron Kay never was.

Lost for more than 60 years and overflowing with political and sexual intrigue, THIEVES FALL OUT provides a delicious glimpse into the mind of Gore Vidal in his formative years. By turns mischievous and deadly serious, Vidal tells the story of a man caught up in events bigger than he is, a down-on-his-luck American hired to smuggle an ancient relic out of Cairo at a time when revolution is brewing and heads are about to roll.

One part Casablanca and one part torn-from-the-headlines tabloid reportage, this novel also offers a startling glimpse of Egypt in turmoil—written over half a century ago, but as current as the news streaming from that region today.