Jonathan Ashley is a freelance journalist and book dealer from Lexington, KY. His work has appeared in
Crime Factory
,
A Twist of Noir
,
LEO Weekly
,
Kentucky Magazine
and
Yellow Mama
.
The Cost of Doing Business
is his debut novel. His second novel, Out of Mercy, will be out in 2015.
I reviewed
THE COST OF DOING BUSINESS
last year, with the book featuring on the years best crime fiction list for 2014.
*See what made the list for best crime fiction in 2014*
Jonathan was kind enough to stop by the blog to answer some questions about the book and where to from here.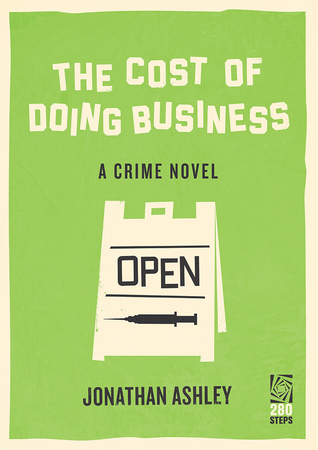 (Josh) The reader doesn't get a chance to settle into reading THE COST OF DOING BUSINESS with the action at the forefront of the story and continuing through to conclusion. How important was it to establish the status-quo in THE COST OF DOING BUSINESS?
(Jonathan) The status quo is established by the narrator/main character's demented and selfish perceptions of the world and his fellows, the people he uses and manipulates to get what he thinks he wants, and who knows if even he's aware of what that is. The novel is an attempt to probe the mind of a true American capitalist, one unencumbered by social mores.
Jon's ambition initially seems to develop from addition and accident before being a natural progression. When this character was conceived, was he always destined to rise up the ranks in the dangerous drug trade?
Most of the natural progression in the criminal underworld relies heavily upon accident and folly. Most people do not purposely rise from drug mule to kingpin. They fall into bad situations, make bad decisions, then at some point decide, "This is what I am, I guess. I'm a criminal, Might as well be the best I can be."
The supporting cast add an element of dark humour in Paul and Jimmy – did you actively try to balance out the violent nature of THE COST OF DOING BUSINESS with this?
It was not a conscious balancing act. Jimmy and Paul are based on real people I knew and I simply scanned my memory thoroughly to give a realistic rendition of their wickedly hilarious senses of humor.
What authors inspired you to write noir and how did that influence the writing process of THE COST OF DOING BUSINESS?
David Goodis was the poet of the common criminal and his works made mine possible.
What books would you recommend reading for fans of THE COST OF DOING BUSINESS?
The Sweet Forever
by George Pelecanos. The Burglar by David Goodis. Give Us a Kiss by Daniel Woodrell.
If you could sell THE COST OF DOING BUSINESS in one sentence, what would it be?
HIGH FIDELITY meets THE GODFATHER.
What are you currently working on? Will there be more noir novels from you in the future?
I'm currently working on a historical novel set in Louisville at the turn of the century involving ex-slaves, serial killers, bordellos, and bent cops. There will be many more noir novels from me.
- - - - - - - - - -
Links:
Find out more about THE COST OF DOING BUSINESS
Visit the publisher, 280 Steps for more crime fiction