This is a weekly meme hosted by
Book Journey
. In order to get some consistency to my posting I thought I'd jump on board this great idea. As a self-proclaimed bookaholic, I love talking about my books and finding out what others are reading. Having been a long time reader of multiple blogs where the 'It's Monday! What Are You Reading?' post is prevalent, I thought it a natural progression I'd add to the mix.
This week it's all about crime fiction with a couple of new releases and a re-read of an old
favorite
.
DARK WATER by Ariana D. Den Bleyker (the new novella from Number13 Press)
Love is complicated. Murder even more so...
When Henry's wife is murdered he's forced to disappear. Nobody would believe he didn't kill her. His sister, the only witness, won't testify. His brother-in-law, the detective, doesn't trust him. His mistress, the investigating pathologist, won't help him. They all have their own secrets to protect.
And after all, Henry killed so many others before.
There's always a price. But if you pay death, then the dead won't come back to haunt you. Dark Water is a pitch black tale of suicide, torture, murder and revenge as an artist returns to produce his greatest work out of those closest to him.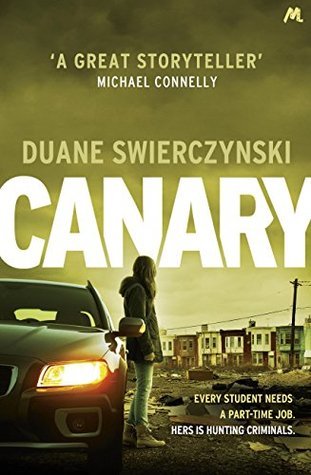 CANARY by Duane Swierczynski (one of my most anticipated reads of 2015 - can't wait to delve into it)
It's dangerous enough when an ordinary college girl turns confidential informant. Even more dangerous when she's smarter than the killer, kingpins, and cops who control her.

Honors student Sarie Holland is busted by the local police while doing a favor for her boyfriend. Unwilling to betray him but desperate to avoid destroying her future, Sarie has no choice but to become a "CI"--a confidential informant.

Philly narcotics cop Ben Wildey is hungry for a career-making bust. The detective thinks he's found the key in Sarie: her boyfriend scores from a mid-level dealer with alleged ties to the major drug gangs.

Sarie turns out to be the perfect CI: a quick study with a shockingly keen understanding of the criminal mind. But Wildey, desperate for results, pushes too hard and inadvertently sends the nineteen-year-old into a death trap, leaving Sarie hunted by crooked cops and killers alike with nothing to save her--except what she's learned during her harrowing weeks as an informant.

Which is bad news for the police and the underworld. Because when it comes to payback, CI #1373 turns out to be a very quick study.
THE DRAMATIST by Ken Bruen (my re-read of the Jack Taylor continues with book 4 in the series - this was my favorite on first read, looking forward to seeing if it still is)
Seems impossible, but Jack Taylor is sober---off booze, pills, powder, and nearly off cigarettes, too. The main reason he's been able to keep clean: his dealer's in jail, which leaves Jack without a source. When that dealer calls him to Dublin and asks a favor in the soiled, sordid visiting room of Mountjoy Prison, Jack wants to tell him to take a flying leap. But he doesn't, can't, because the dealer's sister is dead, and the guards have called it "death by misadventure."
The dealer knows that can't be true and begs Jack to have a look, check around, see what he can find out. It's exactly what Jack does, with varying levels of success, to make a living. But he's reluctant, maybe because of who's asking or maybe because of the bad feeling growing in his gut.
Never one to give in to bad feelings or common sense, Jack agrees to the favor, though he can't possibly know the shocking, deadly consequences he has set in motion. But he and everyone he holds dear will find out soon, sooner than anyone knows, in the lean and lethal fourth entry in Ken Bruen's award-winning Jack Taylor series