As readers of this blog will know I love pulp and crime fiction. What better way to get a dose of the good stuff in a single hit than with Hardcase Crime?
Earlier this year I posted about the slate of upcoming 2015 releases from the 'throw back' publisher - you can read that post
HERE
.
Today I'm taking a look at the new slate of forthcoming books, all of which are reprints with new covers and in the case of JOYLAND by Stephen King (pictured), a nice new illustrated edition that is a must buy for fans not only of Hardcase Crime and Stephen King, but those who enjoy that eye catching pulp era artwork from greats such as Robert McGinnis and Glen Orbik.
You can read my review of JOYLAND (2013)
HERE
.
Below are the titles and descriptions of the new books:
JOYLAND by Stephen King (due to be published in Sept. 2015)
Set in a small-town North Carolina amusement park in 1973, Joyland tells the story of the summer in which college student Devin Jones comes to work in a fairground and confronts the legacy of a vicious murder, the fate of a dying child, and the ways both will change his life forever.

An all-new illustrated edition featuring artwork by Robert McGinnis, Glen Orbik, Mark Summers and Pat Kinsella.
QUARRY by Max Allan Collins (due to be published October 2015)
The assignment was simple: stake out the man's home and kill him. Easy work for a professional like Quarry. But when things go horribly wrong, Quarry finds himself with a new mission: learn who hired him, and make the bastard pay.
QUARRY'S LIST by Max Allan Collins (due to be published in October 2015)
When the man he worked for abruptly exits the business, Quarry finds himself in the crosshairs as a rival tries to take over. But what does Quarry have that the new man wants? And how did the beautiful blonde in the swimming pool become a target?
QUARRY'S DEAL by Max Allan Collins (due to be published in October 2015)
Putting his plan in motion to target other hitmen, Quarry follows one from steamy Florida to the sober Midwest. But this killer isn't a man at all—she's a sloe-eyed beauty, as dangerous in bed as she is deadly on the job. Has Quarry finally met his match?
QUARRY'S CUT by Max Allan Collins (due to be published in October 2015)
It's normal to see bodies on the set of an adult film. But when they're dead bodies—and the cast and crew discover they're trapped in a house with a serial killer—Quarry's got his work cut out for him.
QUARRY'S VOTE by Max Allan Collins (due to be published in October 2015)
Now retired and happily married, Quarry turns down a million-dollar contract to assassinate a presidential candidate. It's not the sort of assignment you can just walk away from without consequences—but coming after Quarry has consequences, too.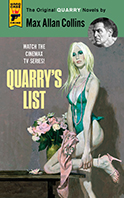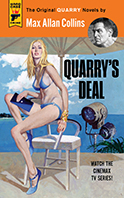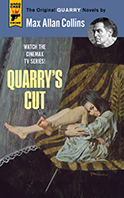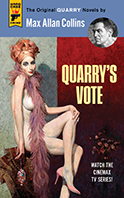 I'm really excited to see Hardcase Crime reprint these earlier Quarry novels. I've got most as kindle editions however it'll be great to have these physical copies with the same aesthetics as the newer Quarry novels from Hardcase Crime. Following October, I think I'll embark on a re-read of my favorite hitman series.