THE LAST QUARRY sees series protagonist Quarry take on one last assignment, one that he falls into by way of professional curiosity. Having spotted a rival mob guy at a store, Quarry follows him back to his place of residence only to discover a damsel in distress - a kidnapped young woman, naked and tied-up to prevent her escape.
After taking care of the mob guys, and having returned the young woman to her wealthy father, Quarry is asked to take on one last assignment.
Quarry's latest target is a curvy and unassuming librarian. The reason for the murder contract isn't made clear early but delivers a delicious twist in the later stages of the novel.
Not one to shy away from the opposite sex, Quarry, during a routine follow op blows his cover by coming to the aid of his target when her abusive boyfriend makes a very public scene at a local watering hole. It's at this point the novel takes a turn and evolves into a more complex crime novel with motives and mystery at the forefront.
THE LAST QUARRY packs a hell of a punch, more impressive given the small page count. I love books that are fast paced, full of character and are concise; THE LAST QUARRY delivers on all fronts.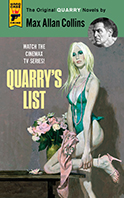 Hardcase Crime are reprinting the earlier Quarry books, you can read my blog post about them
HERE
.