This is a weekly meme hosted by
Book Journey
. In order to get some consistency to my posting I thought I'd jump on board this great idea. As a self-proclaimed bookaholic, I love talking about my books and finding out what others are reading.
Last week I posted the following reviews:
PLEASE DON'T LEAVE ME HERE by Tania Chandler (a
multifaceted
crime fiction set in Melbourne, Australia)
SPEAKING IN BONES by Kathy Reichs (a return to form for Riechs and her evergreen protagonist Temperance Brennan)
Here's what I'm reading (or have just finished reading this week)
CATCH ME WHEN I FALL by Nicci French (
continuing
my recent streak of re-reads I thought the timing was right for this one - just finished and enjoyed is much better the second time around. Will post a review shortly).
A successful, happily married businesswoman, Holly Krauss is loved and admired by everyone she meets. But that's only one side of Holly: the other takes regular walks on the wild side. When the two sides of Holly's life collide, her world spirals out of control . . .
A DARKER SHADE OF MAGIC by V.E. Schwab (switching things up from crime fiction to fantasy this week. This new release from New South Books / Titan makes for a good transition.)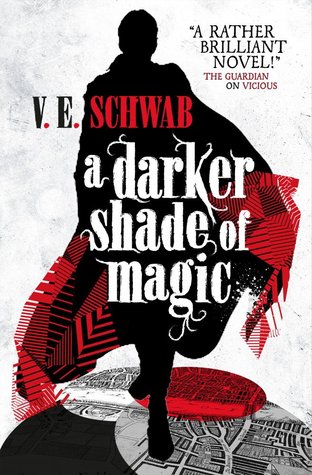 Kell is one of the last Travelers—rare magicians who choose a parallel universe to visit.
Grey London is dirty, boring, lacks magic, ruled by mad King George. Red London is where life and magic are revered, and the Maresh Dynasty presides over a flourishing empire. White London is ruled by whoever has murdered their way to the throne. People fight to control magic, and the magic fights back, draining the city to its very bones. Once there was Black London - but no one speaks of that now.
Officially, Kell is the Red Traveler, personal ambassador and adopted Prince of Red London, carrying the monthly correspondences between royals of each London. Unofficially, Kell smuggles for those willing to pay for even a glimpse of a world they'll never see. This dangerous hobby sets him up for accidental treason. Fleeing into Grey London, Kell runs afoul of Delilah Bard, a cut-purse with lofty aspirations. She robs him, saves him from a dangerous enemy, then forces him to another world for her 'proper adventure'.
But perilous magic is afoot, and treachery lurks at every turn. To save all of the worlds, Kell and Lila will first need to stay alive — trickier than they hoped.