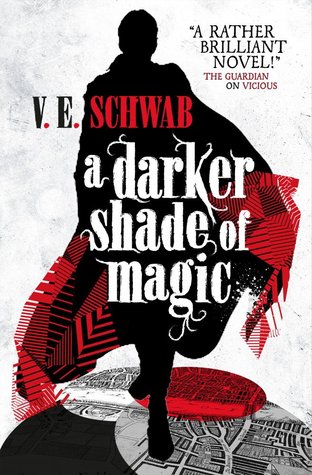 A DARKER SHADE OF MAGIC is an inter-dimensional traveler story that, to an extent, captures the essence of China Mieville's THE CITY & THE CITY and is written in a style not dissimilar to Brent Weeks' the Night Angel Trilogy - fast paced and easily consumable.
The core fantastical element is the use of multiple London's which can be accessed by a scant few who have the ability to travel between worlds. These few, Kell notably are found of taking trinkets as personal hobby or to be used as currency in trade from London to London; though. each time something is taken from one world to another the fabric of peace is threatened - the evil magic of black London is an omnipresent threat that, with the help of a couple of ruthless power-hungry royals looks to break the pattern of peace and establish a new world order.
A DARKER SHADE OF MAGIC reads like a Young Adult novel early on, only to get progressively darker as the story unfolds. The characters
(Holland, Kell, Lila)
are as multidimensional
as the London's they traverse with each London having as a unique feel to it that separates them from their namesake be it the language, inhabitants mannerisms or easy / rare use of magic.
The atmospheric London's are a place the author makes the reader want to visit over and over again. Where danger lurks so do interesting and limitless surreal stories. A DARKER SHADE OF MAGIC provides a mere glimpse into the potential of these interesting places and I, for one, can't wait to get lost in that magic once more!
Many thanks to New South Books and Titan for the review copy of A DARKER SHADE OF MAGIC!
The second book in the series A GATHERING OF SHADOWS is scheduled for a February 2016 release.
Read more about A GATHERING OF SHADOWS
here from Victoria (V.E.) Schwab's blog
.
Links to publisher websites:
Titan Books
New South Books