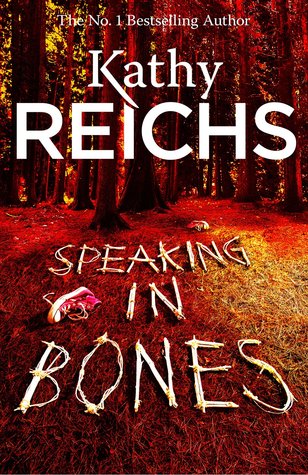 The latest book in the long standing Temperance Brennan series grabbed hold of my attention immediately with a horror-like opening brimming with tension, dread and a touch of death. Whilst the momentum isn't maintained in that same pulse pounding frenetic pace for the entirety of the book, SPEAKING IN BONES is still a pretty damn good read.
SPEAKING IN BONES takes cyber sleuthing to dangerous levels. Arm chair detectives who become the face of justice in the pursuit of finding and/or identifying missing persons are thrust into the spotlight when a unique character nicknamed Lucky Strike confronts Brennan with a terrifying voice recording of a woman seemingly held captive by two men. The recording is made all the more menacing by virtue of a probable linage to bones discovered near-by the recording in a secluded woodland. Strike sets a in motion a chain of events that brings Brennan face to face with killers and the harsh reality of her own mortality.
Like with any 'Bones' book, there is a healthy smattering of Brennan's life outside her profession but in SPEAKING IN BONES, the down-time contributed to the plot rather than serving as a distraction or side element.
One noticeable aspect to the book is the use of cliffhanger endings to each chapter. I really liked this approach as it made me want to keep reading and added a real sense of urgency to the cold case murder mystery.
SPEAKING IN BONES is a great return to form for the series and one I enjoyed from beginning to end.